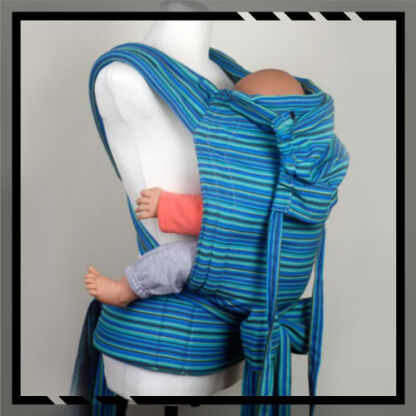 Mei Tai carriers:
* comfortable for both parent and child
* possibility of wearing at the front and at the back
* You can choose from three types of hoods (simple, hood and hood with ears) or without a hood. The hood can be attached with snaps or sewn permanently.
* possible washing in the washing machine
* the shoulder straps and waist straps are generally 2,2 meters long
* designs are made of Natibaby wraps
* sizes available: Baby, Standard and Toddler
panel sizes:
 
Baby
Standard
Toddler
width
43cm
(16,93")
48cm
(18,90")
54cm
(21,26")
height
39cm
(15,35")
42cm
(16,54")
45cm
(17,72")
Permissible error of measurement +/- 2cm (0,79")
Attention: Pattern placement may vary from the one presented in the pictures.